We are delighted to announce that CTS are Queen's Award Winners for Innovation 2019.
Formed in 2010, CTS Europe has grown from 3 to 26 staff and has built a reputation worldwide for providing containment solutions for handling high hazard drugs in the laboratory. Being crowned as one of the queen's award winners for innovation 2019 is a remarkable achievement for the company. Sean Codling, CTS Managing Director says:
"Winning the Queens Award for Innovation is a great achievement and a stepping stone for our company. This is the result of the ability, commitment and enthusiasm that the CTS team bring to work every day and it also represents a great success for UK design and Manufacture."
The Queen's Award recognises the innovation of Lab-Bubble™, a new type of portable benchtop laboratory fume hoods. Thanks to the development process required to bring the Lab-Bubble™ to market, CTS have been able to increase capabilities both technically and commercially, paving the way to new product developments and new business opportunities worldwide.
The Queen's Awards are the UK's most prestigious recognition for businesses with outstanding achievement in the categories of international trade, innovation, sustainability development and promoting opportunity through social mobility; and it is valid for five years.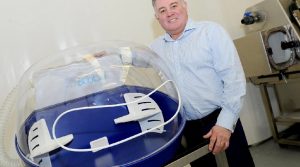 Click here for more information on Lab Bubble.